Articles | Volume 5, issue 1
https://doi.org/10.5194/gc-5-55-2022
© Author(s) 2022. This work is distributed under
the Creative Commons Attribution 4.0 License.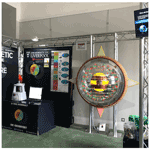 Magnetic to the Core – communicating palaeomagnetism with hands-on activities
Palaeomagnetism is a relatively unknown part of Earth sciences that is not well integrated into the school curriculum in the UK. Throughout recent years, there has been a decline in the number of Earth science students in the UK. In 2018 and 2019, we developed outreach activities and resources to introduce the scientifically engaged general public to palaeomagnetism and raise awareness of how geomagnetism affects society today, thus putting palaeomagnetism, and Earth sciences, in the spotlight. We tested our ideas at local events that were visited mostly by families with small children, with tens to hundreds of participants. Our project culminated in the Magnetic to the Core stand at the Royal Society Summer Science Exhibition in 2019, which is visited by members of the general public, students and teachers, scientists, policymakers and the media. At this event, we communicated the fundamentals of palaeomagnetism through hands-on activities and presented our recent research advances in a fun and family- friendly way. To test the impact of our exhibit on knowledge of palaeomagnetism and Earth's magnetic field on visitors, we designed an interactive quiz and collected results from 382 participants over 8 d. The results show a significant increase in median quiz score of 22.2 % between those who had not yet visited the stand and those who had visited for more than 10 min. The results from school-aged respondents alone show a larger increase in the median score of 33.5 % between those who had not yet visited and those who had spent more than 10 min at the stand. These findings demonstrate that this outreach event was successful in impacting visitors' learning. We hope our Magnetic to the Core project can serve as an inspiration for other Earth science laboratories looking to engage a wide audience and measure the success and impact of their outreach activities.
Received: 02 Nov 2021 – Discussion started: 09 Nov 2021 – Revised: 26 Jan 2022 – Accepted: 01 Feb 2022 – Published: 07 Mar 2022
Palaeomagnetism is the field of research that deals with reconstructing the Earth's magnetic field in the past, as recorded by rocks. Palaeomagnetism is an important field of study through its relevance to the ongoing geomagnetic protection of Earth from space weather. Severe space weather is named by the UK government as being one of the major risks to society (National Risk Register, 2022). Palaeomagnetism is also important for its utility in solving geologic problems and has provided some of the first independent evidence for the theory of plate tectonics in the 1960s. Important contributions were made to the emerging field of palaeomagnetism in the UK in the 1950s (Merrill et al., 1998). There is, however, little awareness in the UK public of palaeomagnetism and its uses and benefits.
Palaeomagnetism is a truly multifaceted field as it bears upon all the natural sciences; it provides excellent possibilities for contributing to teaching in schools, with links to physics (magnetism), chemistry (composition of magnetic materials), mathematics (trigonometry and vector calculus), geography (plate tectonics), and biology (magnetotactic bacteria). At its heart, palaeomagnetism is a geoscience discipline, incorporating geophysics, geology, and physical geography. While geography is taught widely in UK schools, the availability of geology is much more patchy, and the number of courses is declining (Boatright et al., 2019). The number of A-level students (A-levels are UK secondary education qualifications, typically taken prior to university entrance) roughly halved since the 1980s (peak at nearly 4000 entries), with a recent drop from 2500 to 1500 from 2014 to 2018. Geophysics is not taught until university level, although plate tectonics and other aspects of Earth science are taught within the national curriculum under geography and science. From 2017 to 2019, the number of geology students at UK universities decreased around 10 % yearly (Boatright et al., 2019); thus, the need to increase awareness of the importance of Earth sciences to society among school students and their parents is increasingly pressing. Geophysicists are named on the list of shortage occupations in the UK (Migration Advisory Committee, 2020). Although palaeomagnetism outreach happens on local, regional, and national levels, there is a scarcity of documentation on particular palaeomagnetism outreach events or activities (Ayala et al., 2021), and it is thus difficult to assess what palaeomagnetism outreach is being done around the world and how effective it is. Outreach is increasingly valued as an activity in which scientists should participate, and we show here that, with relatively little equipment, audiences can learn a lot about the Earth's magnetic field.
The Royal Society Summer Science Exhibition
The Summer Science Exhibition of the Royal Society dates back to 1778, when the president of the Royal Society started "conversaziones" in which fellows of the Royal Society could talk about their scientific work to members of the public. These events developed into the Summer Science Exhibition, which has been running in its current form for more than 30 years (Royal Society, https://royalsociety.org/science-events-and-lectures/2021/summer-science-exhibition/, last access: 1 March 2022). The exhibition is held in the building of the Royal Society in central London, close to Buckingham Palace. It attracts thousands of visitors each year and runs for 7 d, at least 8 h each day, and hosts 22 stands. Teams on a stand usually consist of 20–50 people, depending on the budget and number of collaborators. Often, teams put in proposals for a stand as a collaborative undertaking, with multiple universities or institutes being involved in a bid. In total, around 700 scientists present their work at the exhibit each year. For the 2019 edition, about one-third of the proposals were successful, and our stand was the only one dedicated to Earth science at the exhibition and the only one from the University of Liverpool.
We describe here the development of our palaeomagnetism outreach activities and resources, the reactions from participants, and our evaluation process and its results. Ultimately, these outreach activities formed part of the University of Liverpool's Research Excellence Framework (REF) 2021 submission, highlighting its perceived value as a professional activity. Our activities can easily be adapted and emulated to fit other countries, labs, and audiences. We present this project in the hope that it can serve as an inspiration for other groups to perform outreach with impact in palaeomagnetism and Earth sciences.
Over the course of 7 d, the Royal Society Summer Science Exhibition, which featured 22 stands, attracted a total of 12 653 visitors. This included 1518 students and 187 teachers from 89 schools.
3.1

 Number of visitor interactions

We had several ways to obtain estimates of the number of visitors to the stand. One was through the number of freebies. We printed 1000 stickers, which were all handed out after day 4 of the exhibition. However, some groups of people would go on the hunt for freebies without visiting the stand, making this an overestimate of the number of visitors. To measure the number of visitor interactions at our stand specifically, the number of kickstool magnetometer measurements was used as a proxy. The results show that over the course of the week, 1011 measurements were recorded (see Fig. 6). Generally, participants measured between two and six samples, putting the estimate of the number of people using the kickstool magnetometer at between 170 and 500. Figure 1 shows the number of measurements performed per day. Not all visitors used the magnetometer, so the number of attendees to the stand as a whole was much higher. We registered 382 quiz responses, of which 165 had already visited the stand. In total, we estimate that at least several hundred and possibly 1000 visitors interacted with our stand.
3.2

 Impact on knowledge of visitors

The impact of this outreach event on the knowledge of visitors was measured by looking at the difference in quiz scores between participants who had and had not (yet) visited the stand. Because the data do not show a normal distribution, we use median values instead of averages. In total, there were 382 quiz responses recorded, of which 136 were by school-aged participants (see Table 4). As shown in Fig. 7, the median quiz scores increased by 11.1 % for those who visited the stand for less than 10 min compared with those who had not yet visited the stand. For those who visited the stand for more than 10 min, their median scores increased by 22.2 %.

Comparatively, visitors of school age who visited the stand for an extended period of time experienced a more significant increase in the accuracy of their scores in the quiz (see Fig. 7). School-aged participants who visited the stand for less than 10 min achieved a 22.3 % increase in median scores compared to school-aged participants who had not yet visited the stand. School-aged participants who visited the stand for more than 10 min experienced a 33.5 % increase in their median scores compared to those who had not yet visited. We use the Wilcoxon rank sum test for common medians (also known as the Mann–Whitney test). Comparing the responses from people who had not yet visited the stand to people who had visited < 10 min yields Wilcoxon rank sum p values of p = 0.010 for all respondents and p = 0.003 for school-aged respondents. Comparing the < 10 min responses to the > 10 min responses gives the following p values for the tests: p ≪ 0.001 – all respondents; p = 0.004 – school-aged respondents. In both cases, at better than the 0.5 % confidence level, we can reject the null hypothesis that the responses from the different groups come from distributions with the same median. Thus, the differences are significant. Performing a two-sample t test (for equal means) on average scores (which ignores the non-normality of the data) also shows there is a significant increase in quiz score.

The answers to the question "Can you tell us one thing you have learnt from the stand?" show that we were successful with regards to bringing across our learning outcomes. There are 210 answers to this question (see File S2 in the Supplement), with 89 of these answers specifically relating to a learning outcome. Of these, 19 mention LO 1 in some form (e.g. "measuring polarity with magnetometer"), 61 mention LO 2 (e.g. "magnetic reversals"), 7 mention LO 3 (e.g. "chocolate is not magnetic"), and 2 mention LO 4 (e.g. "that samples are taken by drilling"; see Fig. 8). Another theme that is often mentioned is that the Earth's magnetic field is generated in the (liquid outer) core. Although, not specifically linked to a learning outcome, this was often discussed with visitors interacting with the magnetic globe. A common theme emerging from the answers not linked to a learning outcome is the deep Earth (e.g. "the Earth has a solid core" and "liquid outer core").
Our results indicate that our stand had an impact on visitors' knowledge regarding palaeomagnetism and the Earth's magnetic field. One of the downsides of our approach, in which there was one team member who asked the questions and filled them in on a tablet, was that we were often dealing with groups of people instead of individuals. Some groups wanted to do the quiz together as a team, and they would discuss amongst themselves which the most likely answer was. Other groups of people wanted to do the quiz as opponents, while it was only possible to fill in one answer at a time. The quiz thus only gives a rough indication of the impact of our stand on the knowledge of visitors. Furthermore, our question "Can you name one thing you learnt from the stand?", which was a good way to test if our learning outcomes had come across, often took a long time to fill in on the tablet. This led, in some cases, to incomplete answers, particularly when it was busy at the stand and people were queuing for the quiz. We trialled a different approach at the smaller outreach events, which was to let visitors fill this in themselves on a piece of paper. This, however, turned out not to be a good alternative, as visitors often left that box blank. Thematic analysis (Braun and Clarke, 2006) can be used to evaluate answers from this type of open question. Although rock or choc was extremely popular, visitors do not often refer to LO 3, possibly because it is considered common knowledge. We do note that there are many answers along the lines of "chocolate can look like a rock", but we did not count these in our analysis because they do not specifically mention magnetism.
It is unclear if the targeted group is representative for society as a whole, as the prestige of this event and the location could have attracted attendees from more affluent backgrounds. The participants may represent a well-educated proportion of the general public, perhaps with prior general knowledge about science, thus making participants more familiar with scientific topics than the general population. The Royal Society arranged participation for school groups, specifically aimed at schools from the least affluent areas to mitigate this for part of our studied demographic, i.e. the school-aged participants.
Due to the barriers on collecting sensitive information (such as gender, age, contact details, etc.), we are unable to provide more specific details about the participants to the study. Our team members that were in charge of the questionnaires aimed to question an even spread of school-aged participants and non-school-aged participants and people who had and had not yet visited the stand.
The adults who attended the exhibit were self-selecting, making it likely that they had a general interest in science prior to the exhibition. This is inferred by all respondents receiving a median score of 55.6 %, despite not having visited the stand yet, and school-aged respondents receiving 44.4 % median scores when not having visited the stand yet. Therefore, collecting another dataset in a different location may be beneficial to see whether these results are representative for the general public.
We have presented our Magnetic to the Core project here in the hope that it will inspire other researchers to undertake Earth science outreach. Despite having a relatively small budget (GBP 24 000) and little prior experience of major outreach activities amongst the team members, the Magnetic to the Core stand at the Royal Society Summer Science Exhibition 2019 was successful in achieving its aims and provided tangible benefits to the team and funders, as well as the public who attended it. We have provided an example of how to measure the impact of outreach events and share our budget and evaluation to demonstrate the actual cost and value of outreach activities. By using the recordings from the kickstool magnetometer and quiz responses, we estimate that at least several hundreds of visitors interacted with the stand. We show that visiting the stand had a measurable influence on visitors' knowledge of palaeomagnetism and the Earth's magnetic field through a significant increase in quiz scores. An increased amount of time at the stand increased the median scores further. In order to gain results that are representative of society as a whole, more data are needed to mitigate the self-selection of participants. Overall, our experiences with Magnetic to the Core were positive, with every team member expressing their enjoyment in participating. Although challenging at times, the events were rewarding and have strongly motivated us to continue our outreach efforts.
All authors participated in the design and execution of the project, and all authors were involved in the writing of the paper.
The contact author has declared that neither they nor their co-authors have any competing interests.
Publisher's note: Copernicus Publications remains neutral with regard to jurisdictional claims in published maps and institutional affiliations.
The Magnetic to the Core project was partly funded by the Leverhulme Research Leadership award (grant no. RL-2016-080), the Natural Environment Research Council (NERC; grant nos. NE/P00170X/1, NE/S008330/1), all to Andrew J. Biggin, the NERC Independent Research Fellowship to Greig A. Paterson (grant no. NE/P017266/1), with additional funding from the University of Liverpool, the British Geophysical Association, and the Royal Society. JK acknowledges a UKRI Future Leaders Fellowship (MR/S035141/1). This work could not have been done without all of the hard work and enthusiasm of our team, consisting of Anouk Beniest (VU Amsterdam), Richard Bono, Yael Engbers, Michael Grappone, Ben Handford, Louise Hawkins, Mimi Hill, Elliot Hurst, Tereza Kamenikova (University of Lancaster), Simon Lloyd, Domenico Meduri, Joe Perkins (Imperial College London), Georgia Quinn, Jenny Schauroth, Courtney Sprain, and Daniele Thallner. We thank the team at the Royal Society and Amy Fry, in particular, for their help, enthusiasm, and organisation. We benefited a lot from the training provided by the Science Museum. We thank all visitors of our stand for their interest in our research and their questions, the Paleomagnetic Laboratory of the University of Bremen, for lending us the magnetic globe, and Emma Goult, for processing our survey results. We thank Rosella Nave, an anonymous reviewer, Faye Nelson, and editor Solmaz Mohadjer, for their comments that have improved the paper.
This research has been supported by the Leverhulme Trust (grant no. RL-2016-080), the Natural Environment Research Council (grant nos. NE/P00170X/1, NE/P017266/1, and NE/S008330/1), and UKRI Future Leaders Fellowship (MR/S035141/1).
This paper was edited by Solmaz Mohadjer and reviewed by Rosella Nave and one anonymous referee.
Ali, H. N., Sheffield, S. L., Bauer, J. E., Caballero-Gill, R. P., Gasparini, N. M., Libarkin, J., Gonzales, K. K., Willenbring, J., Amir-Lin, E., Cisneros, J., Desai, D., Erwin, M., Gallant, E., Gomez, K. J., Keisling, B. A., Mahon, R., Marín-Spiotta, E., Welcome, L., and Schneider, B.: An actionable anti-racism plan for geoscience organizations, Nat. Commun., 12, 1–6, https://doi.org/10.1038/s41467-021-23936-w, 2021. 
Ayala, C., Beamud, B., Huebert, J., Jones, S. A., Kumar, A., Miller, S. R., Moorkamp, M., Pueyo, E. L., Ruiz-Constan, A., Schamuells, N., Sur, D., Tauxe, L., and van Hinsbergen, D. J. J.: Geomagnetism, Paleomagnetism and Electromagnetism Perspectives on Integrated, Coordinated, Open, Networked (ICON) Science, ESSOAr, 249–252, https://doi.org/10.1002/essoar.10508852.3, 2021. 
Bernard, R. E. and Cooperdock, E. H. G.: No progress on diversity in 40 years, Nat. Geosci., 11, 292–295, https://doi.org/10.1038/s41561-018-0116-6, 2018. 
Boatright, D., Davies-Vollum, S., and King, C., Earth science education: The current state of play. Geoscientist, 29, 16–19, https://doi.org/10.1144/geosci2019-045, 2019. 
Bono, R., Tarduno, J., and Singer, B.: Cretaceous magmatism in the High Canadian Arctic: implications for the nature and age of Alpha Ridge, EGU General Assembly, 2013, Vienna, Austria, 7–12 April 2013, EGU2013-11429, 2013. 
Braun, V. and Clarke, V.: Using thematic analysis in psychology Using thematic analysis in psychology, Qual. Res. Psychol., 3, 77–101, https://doi.org/10.1191/1478088706qp063oa, 2006. 
Dowey, N., Barclay, J., Fernando, B., Giles, S., Houghton, J., Jackson, C., Khatwa, A., Lawrence, A., Mills, K., Newton, A., Rogers, S., and Williams, R.: A UK perspective on tackling the geoscience racial diversity crisis in the Global North, Nat. Geosci., 14, 256–259, https://doi.org/10.1038/s41561-021-00737-w, 2021. 
Dutt, K.: Race and racism in the geosciences, Nat. Geosci., 13, 2–3, https://doi.org/10.1038/s41561-019-0519-z, 2020. 
Kaaden, K. V., Ryan, C., Rivera-Valentín, E. G., Phillips, C. B., Haber, J., Filiberto, J., and Denton, A.: Creating Inclusive, Supportive, and Safe Environments in Planetary Science for Members of the LGBTQ+ Community, Bulletin of the AAS, 53, https://doi.org/10.3847/25c2cfeb.bf7d9e04, 2021.  
Merrill, R. T., McElhinny, M. W., and McFadden, P. L. (Eds.): History of Geomagnetism and Palaeomagnetism, Chapter 1, in: The Magnetic Field of the Earth Paleomagnetism, the Core, and the Deep Mantle, Academic Press, 63, 1–14, ISBN: 978-0-12-491245-8, 1998. 
Migration Advisory Committee: Review of the shortage occupation list: 2020, Corporate report, GOV.UK, https://www.gov.uk/government/publications/review-of-the-shortage-occupation-list-2020 (last access: 24 February 2022), 2020. 
National Risk Register: https://www.gov.uk/government/publications/national-risk-register-2020, last access: 24 February 2022. 
Núñez, A. M., Rivera, J., and Hallmark, T.: Applying an intersectionality lens to expand equity in the geosciences, J. Geosci. Educ., 68, 97–114, https://doi.org/10.1080/10899995.2019.1675131, 2020. 
Paterson, G. A.: greigpaterson/Magnetic_to_the_Core_Survey: First Release, Version v1.0.0, Zenodo [data set], https://doi.org/10.5281/zenodo.6257839, 2022. 
Torsvik, T. H., van der Voo, R., Preeden, U., Mac Niocaill, C., Steinberger, B., Doubrovine, P. V., van Hinsbergen, D. J. J., Domeier, M., Gaina, C., Tohver, E., Meert, J. G., McCausland, P. J. A., and Cocks, L. R. M.: Phanerozoic polar wander, palaeogeography and dynamics, Earth-Sci. Rev., 114, 325–368, https://doi.org/10.1016/j.earscirev.2012.06.002, 2012. 
van der Boon, A.: Ten things you might not know about the Earth's magnetic field, ResearchGate, https://doi.org/10.13140/RG.2.2.17119.82089, 2019.